Think of your job description as the first insight potential candidates get of your company.
Does it sound cool and interesting? If you read it would you like to work there?
It is getting harder and harder to attract the right candidates and this is only going to get worse.
A well-crafted job description should be detailed enough so the candidate knows what to expect but short and concise so as not to overwhelm.
When you source a new role you are tasked with putting the job description together – make sure it stands out.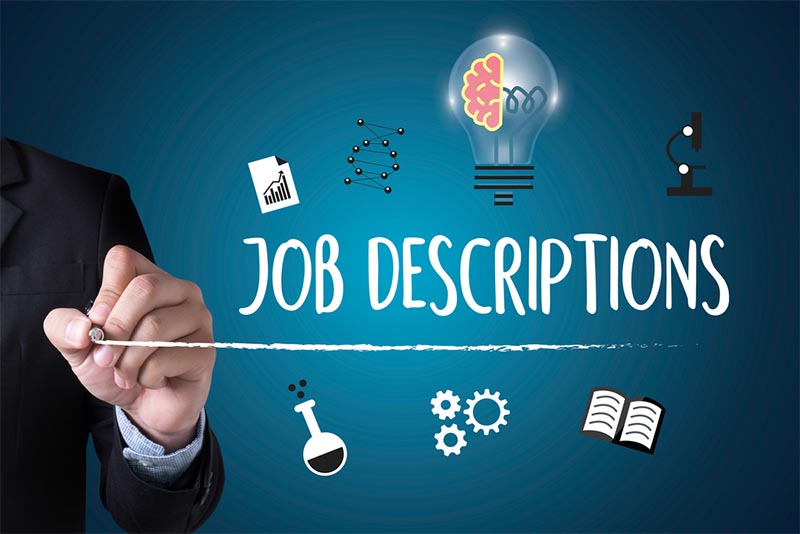 Purpose of a job description
A job description has three main requirements:
Attract Candidates: A good job description should describe the role and main requirements to attract candidates either externally or from within the organisation.
Define the role: When used correctly a good job description can be used as a reference point for employees working in that position. It can come in very handy during appraisal or review meetings and can also be used as a performance gauge when considering promotion.
Reference for Managers: Again a good description can be used as a reference point for managers to gauge how their team or staff are performing. It is not uncommon for the job description document to be used during reviews.
Job descriptions are a must when recruiting new staff but can also serve as an ongoing guide throughout the employment term.
Spend the time getting yours right and it will pay off…
What to include in a job description
The document should include requirements, an outline of qualifications and skills and a description of the duties the candidate will have to carry out, performing in the role.
The potential candidate will want to know what the job involves so give as much information about the role as possible – bullet points work great here as they can scan through the list quickly…
You should also include company details like:
Culture – to see if the candidate is the right fit
Company mission – make sure the candidate can follow and add value to your overall mission
Benefits – Give a breakdown of company benefits. These can be a great hook to bring in new candidates and often the value of benefits will outweigh salary requirements.
Reporting structure – Who will the candidate be reporting to and list potential opportunities for advancing in the organisation.
Essentially a candidate should be provided with enough information to decide if they are a) qualified for the job advertised and b) the like the company culture and overall package.
Writing the job description
Title
First up you want to think of the job title. It is best to be specific when creating the role title.
Use industry-specific keywords that are targeted and avoid using generic wording as this may confuse candidates.
Remember that external candidates will not understand your company lingo so leave this out of the job descriptions.
Stick to industry standard terms or adapt your structure names to suit.
Job Summary
Think of this as your elevator pitch for the job. It needs to be strong and clear but catchy. This should define the requirements for the position and a quick snapshot of your company.
The summary is where you can highlight some of the key reasons why people like to work for your company. You are upselling your brand and company culture to potential candidates so make it shine.
You can also state where the candidate will be located. This will be picked up by the Jobs databases and will help in targeting the right candidates by location.
Be very clear here as sending a candidate to interview in head office but then shipping them off to a remote location doesn't do anybody any favours.
Responsibilities
List out all the responsibilities the successful candidate requires to qualify for the role.
If you have a role that requires an additional skillset then this needs to be listed here.
For example: If you are looking for a marketing resource and they need to be able to make changes and edits to your website then make sure you state that in the description.
This makes it much easier for the candidate to decide if they are qualified for the role and helps you find the right resource.
Qualifications
Your job description should list out all the qualifications required to be successful in the role.
List out education, previous experience, certification requirements, and technical skills. You can also list out soft skills that existing staff have that help them in similar roles.
This could be strong communication skills or analytical problem-solving skills.  You can add anything in here that you feel would help the new hire to excel in the role.
One word of warning here though is to keep the list short and to the point. You might have a long list of nice-to-have requirements but keep them for the interview stage. Only add what you need otherwise you may overwhelm the candidate.
Job description checklist
Job title
Where candidate fits into organisation, at a team and overall level
Reporting structure – who do they report to
Responsibility and deliverables
Role and company objectives
The potential for growth or promotion
Training and education requirements
Cultural traits required to fit in
Job location and any additional travel requirements
Benefits package and salary range